Arma 3 – Tanks DLC released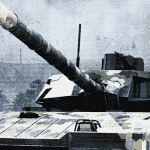 The new DLC Tanks for Arma 3 has been released this week. The paid DLC contains the new mini-campaign "Altis Requiem", in which the player slips into the role of a tank commander of the AAF and plays the classic campaign "The East Wind" from the opposite perspective and commands the newly introduced tanks.
Along the campaign 3 new tanks will be integrated into the game:
T-140 Angara: A modern main battle tank of Russian design equipped with a 125 mm cannon and a 12.7 mm and 7.62 mm machine gun. AWC Nyx: A light armoured weapons carrier of German design with 4 variants: Anti-tank, anti-air, reconnaissance and autocannon. Rhino MGS: An armoured fighting vehicle specialized in the fight against tanks and equipped with a 120 mm gun.
As usual with Arma 3, a extensive Arma 3 update was published, which all Arma 3 owners received, introducing many innovations in connection wit...