GTA: San Andreas Server Hosting
GTA: San Andreas Multiplayer GameServer Hosting with DDoS protection - ZAP-Hosting.com
GTA: SAMP Server Hosting
About the game
GTA: San Andreas Multiplayer is a modification of the initially in 2004 released open world shooter, that adds huge multiplayer elements to the game. At the same time, almost all features of the singleplayer mode are still accessible to enjoy with other players. Other than Rockstar's GTA V Online, GTA: San Andreas Multiplayer enables a massive variety of different play styles. Due of that, role playing servers, like many others, enjoy big popularity.
Have you ever had the chance to play GTA: San Andreas with a friend of yours, but without having to share the controller? If your answer is 'no' then now might that dream come true with using the help of our prepaid GTA: San Andreas Multiplayers servers. Within just a few seconds after purchase, you can both sit in your stolen vehicle. And if that's still not enough, you can even upload your own expansions and scripts through your free FTP access.
€
2.00/Mo
Prepaid GTA: San Andreas Multiplayer Server
Full access via FTP, install upgrades with only a mouse click
Ingame console for sending commands etc.
EasyConfig for understanding and editing the server settings
Backup creation and recovery with only a mouse click
GTA: San Andreas Multiplayer Server Hosting
Highend server hosting
SSD server systems Faster booting times, best GTA: SAMP server performance
Intel E5-2650v4 processors High-performance processors from Intel for optimal uptimes and servers free from lagging
328GB DDR4-RAM per host system, assigned depending on slots & RAM boost for your GTA: SAMP game server
Easy payment & online instantly via PaySafeCard, PayPal, Call2Pay, HandyPay, Bitcoin or instant bank transfer
Prepaid or contract server, with ZAP there's a right choice for everyone!
Dallas, USA
+ 10 %

At the PsychZ Data Center in the State of Texas wwe have moved into a location with our own hardware and network technology.

Hardware:
We use our own network hardware (Juniper EX3300 switches) with 4x 10G SFP+ uplinks.
At this location we rely on Dell R720 servers with powerful XEON CPUs at clock speeds between 3 and 3.4 GHz.

DDoS Protection:
The location is equipped with a strong DDoS Protection protected, that offers optimal protection and performance against stronger DDoS attacks, optimized for Gameservers.

On-site personnel:
The data center offers first-time support and has a Technician around the clock.

IP networks:
As an official RIPE member, we have our own IP networks at this location and therefore you can book your own IP addresses with us.

1515 Round Table Dr, Dallas, TX 75247
Frankfurt am Main, Germany
+ 0 %
We offer in our main location at the intersection Frankfurt am Main, Germany, a wide range of services and have our own server infrastructure. The company "ZAP-Hosting" was established here in 2010.

Hardware:
Several different hardware combinations are used: From desktop gaming PCs with powerful i7 processors and AMD Ryzen and threadripper processors to Intel XEON v2, v3, v4 single and dual CPU server systems to HP ProLiant blade systems with 16x HP G8 blades with 2x E5-2690v2 CPUs, each with DDR3 and DDR4 ECC.
We rely on Force10 and Juniper switches, our core switch has 48x 10G SFP+ ports that provide the entire uplink of our infrastructure, providing all other switches with uplinks.

DDoS Protection:
The location is protected by voxility against a bandwith of up to 960 Gbit/s DDoS.
Host systems are each connected with 1-10 Gbps.

On-site personnel:
Technicians are 24/7 on site in case of emergencies.
Our monitoring system informs us of all failures in real time, enabling immediate intervention by a technician on site.

IP networks:
As official RIPE Member we offer our own IP addresses at this location.

Dieselstraße 37, 60314 Frankfurt am Main, Deutschland
Montreal / Beauharnois, Canada
+ 20 %
With the location Montreal (more precisely: Beauharnois) at the OVH Data Center in Canada we do not only cover the east coast of Canada, but also the east coast of America, especially American metropolises like New York, Philadelphia, Pittsburgh, etc., so for the northern US east coast optimal pings are to be expected.

Hardware:
Rented Intel server processors and Intel OC gaming CPUs with high clock speeds are used.
Only SSD hard disks are used.

DDoS Protection:
The DDoS Protection in the data center is well-engineered and can withstand stronger attacks without major loss problems.

On-site personnel:
Technicians are on duty around the clock and are automatically informed in the event of breakdowns.

50 Rue de l'Aluminerie, Beauharnois, QC J6N 0C2, Kanada
---
---
GTA SAMP Game Server
Webinterface Screenshots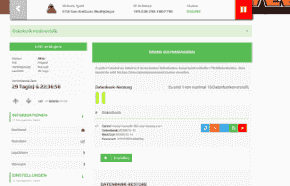 Booking periods
Table of Prices

07 Days 30 Days 90 Days 360 Days
Slots
Price

20

Slots
2.00 EURO

30

Slots
3.00 EURO

40

Slots
4.00 EURO

50

Slots
5.00 EURO

60

Slots
6.00 EURO

70

Slots
7.00 EURO

80

Slots
8.00 EURO

90

Slots
9.00 EURO

100

Slots
10.00 EURO

110

Slots
11.00 EURO

120

Slots
12.00 EURO

130

Slots
13.00 EURO

140

Slots
14.00 EURO

150

Slots
15.00 EURO

160

Slots
16.00 EURO

170

Slots
17.00 EURO

180

Slots
18.00 EURO

190

Slots
19.00 EURO

200

Slots
20.00 EURO

210

Slots
21.00 EURO

220

Slots
22.00 EURO

230

Slots
23.00 EURO

240

Slots
24.00 EURO

250

Slots
25.00 EURO

260

Slots
26.00 EURO

270

Slots
27.00 EURO

280

Slots
28.00 EURO

290

Slots
29.00 EURO

300

Slots
30.00 EURO

310

Slots
31.00 EURO

320

Slots
32.00 EURO

330

Slots
33.00 EURO

340

Slots
34.00 EURO

350

Slots
35.00 EURO

360

Slots
36.00 EURO

370

Slots
37.00 EURO

380

Slots
38.00 EURO

390

Slots
39.00 EURO

400

Slots
40.00 EURO

410

Slots
41.00 EURO

420

Slots
42.00 EURO

430

Slots
43.00 EURO

440

Slots
44.00 EURO

450

Slots
45.00 EURO

460

Slots
46.00 EURO

470

Slots
47.00 EURO

480

Slots
48.00 EURO

490

Slots
49.00 EURO

500

Slots
50.00 EURO
Rent your prepaid GTA: San Andreas Multiplayer server
You're bored from playing GTA: San Andreas on your own? Then now is the time to rent your own
prepaid GTA: San Andreas Multiplayer server
, so you're able to share the fun with your friends or even an
entire community
. Our
web interface
gives you everything you need to change even the
most complex setting in the blink of an eye
.
Furthermore, thanks to the FTP access included for free, you can use your own scripts to supplement your server with new game modes and much more. Like that, your server can be adjusted to realistic conditions among others. Do you get bored after playing for a while? – Don't worry! You can switch between each of our offered game all the time without any additional charges using our game cloud.
---
GTA San Andreas Multiplayer instant & save
During a hot pursuit involving the police or other players, it's really annoying to encounter performance errors. One of our top priority is to prevent sorrows like these. That's why each of our game servers include a
free DDoS protection
and are running on the
most recent hardware
. Through that, your experience is going to stay uninterrupted for sure.
Additionally, with us you have the chance to create free backups of your server all around the clock. In case you need help with that or anything else, our support is available to help you out any day from 10:30AM to 11:00PM. You may contact us via telephone, email, live chat, and even more.
Submit a question
No matching answer to your question(s) found? Do not worry! Here you can reach us directly so that we can answer your product-related question as soon as possible and also display it to other customers.