Rent a Burst the Game server
Your own Burst the Game server in minutes!
Rent a Burst the Game Server
About the game
Burst the Game is being described as a crossover between Battlefield and Counter-Strike. As in Battlefield there drivable vehicles but the gameplay itself take quite a chunk from Counter-Strike with a strong focus on close quarters combat, teams, who play against each other in Team Deathmatch, Conquest and Bomb Defusal (the game does sport a Free For All mode though). Players will have to rely on skill, the right strategy and good communication.
In Burst the Game the player will be fight as a soldier for freedom and democracy in an apocalyptic world or will play the terrorists who were responsible for the fall of governments after attacking the internet 5 years before the game starts. The following economic collapse resulted in revolutions which forced the elite to become more and more authoritarian, fueling the revolutions. In the aftermath the governments collapsed. This is the background for the setting the players a fighting in: team against team.
Burst the Game aims to be a skill to win game. A game that rewards the best players, even though it is a Free 2 Play game. There are no bonuses to be bought with microtransactions. But you can setup your own server. Or you can (of course) rent a Burst the Game Server from ZAP. As we are only using the best hardware you can be certain to get optimal gaming performance
€
6.90/Mo
Prepaid Burst the Game Server
Full access via FTP, install upgrades with only a mouse click
Mod versions on demand Your desired version is not available? Just make a request!
Ingame console for sending commands etc.
EasyConfig for understanding and editing the server settings
Backup creation and recovery with only a mouse click
Free databases to install and manage with only a mouse click
Burst the Game Server Rental
Highend server hosting
SSD server systems Faster booting times, best Burst the Game server performance
Intel E5-2650v4 processors High-performance processors from Intel for optimal uptimes and servers free from lagging
328GB DDR4-RAM per host system, assigned depending on slots & RAM boost for your Burst the Game game server
Easy payment & online instantly via PaySafeCard, PayPal, Call2Pay, HandyPay, Bitcoin or instant bank transfer
Prepaid or contract server, with ZAP there's a right choice for everyone!
Sign up for free Still not convinced? Sign up for free right now and gather impressions of the new ZAP interface!
Burst the Game Game Server
Webinterface Screenshots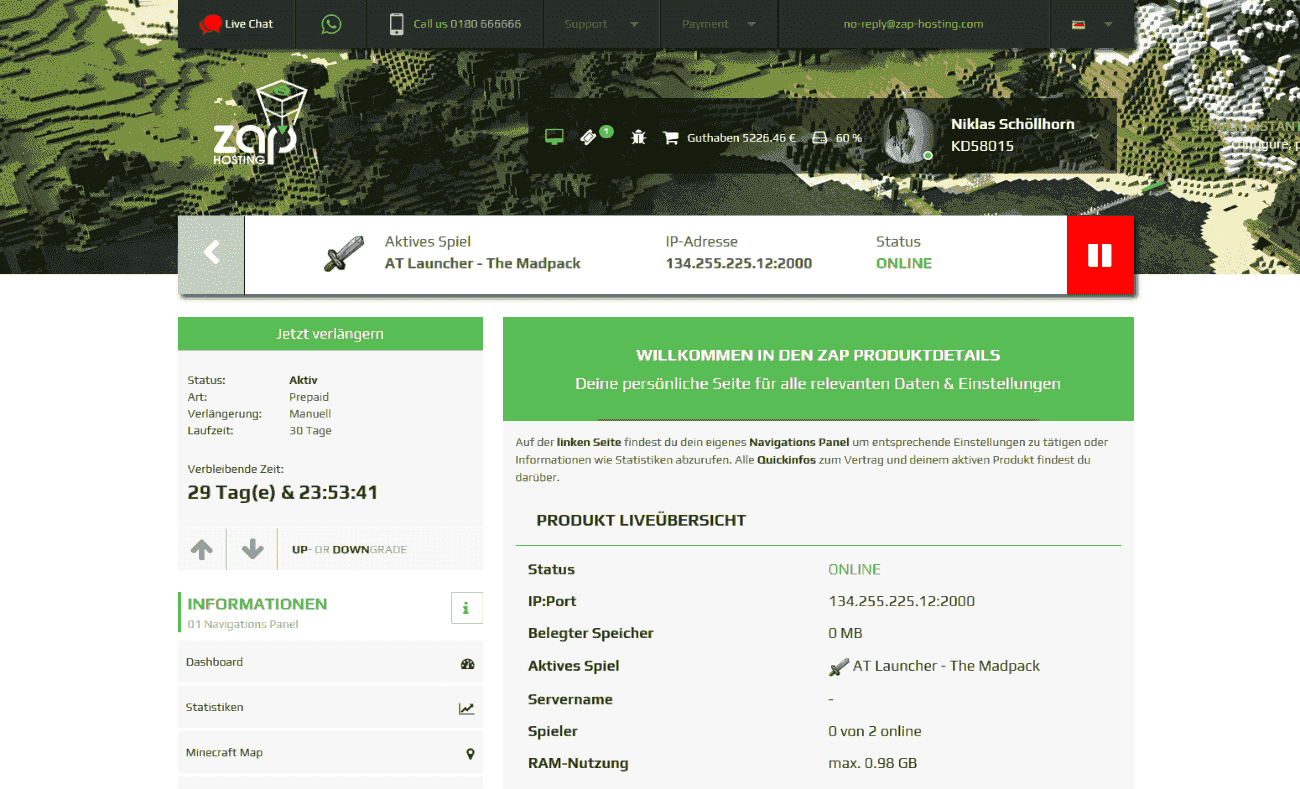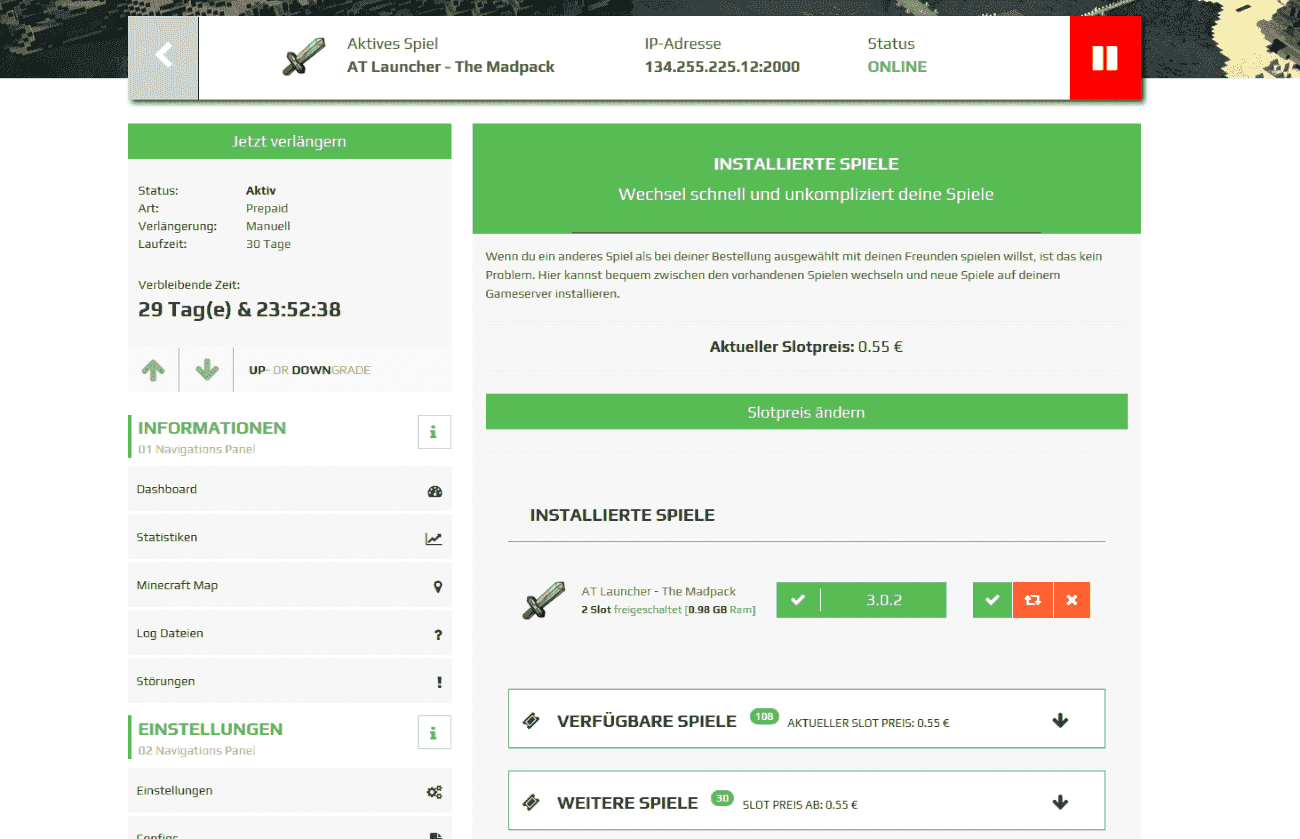 Booking periods
Table of Prices

07 Days 30 Days 90 Days 360 Days
Slots
Price

10

Slots
6.90 EURO

12

Slots
8.28 EURO

14

Slots
9.66 EURO

16

Slots
11.04 EURO

18

Slots
12.42 EURO

20

Slots
13.80 EURO

22

Slots
15.18 EURO

24

Slots
16.56 EURO

26

Slots
17.94 EURO

28

Slots
19.32 EURO

30

Slots
20.70 EURO

32

Slots
22.08 EURO

34

Slots
23.46 EURO

36

Slots
24.84 EURO

38

Slots
26.22 EURO

40

Slots
27.60 EURO

42

Slots
28.98 EURO

44

Slots
30.36 EURO

46

Slots
31.74 EURO

48

Slots
33.12 EURO

50

Slots
34.50 EURO

52

Slots
35.88 EURO

54

Slots
37.26 EURO

56

Slots
38.64 EURO

58

Slots
40.02 EURO

60

Slots
41.40 EURO

62

Slots
42.78 EURO

64

Slots
44.16 EURO

66

Slots
45.54 EURO

68

Slots
46.92 EURO

70

Slots
48.30 EURO

72

Slots
49.68 EURO

74

Slots
51.06 EURO

76

Slots
52.44 EURO

78

Slots
53.82 EURO

80

Slots
55.20 EURO

82

Slots
56.58 EURO

84

Slots
57.96 EURO

86

Slots
59.34 EURO

88

Slots
60.72 EURO

90

Slots
62.10 EURO

92

Slots
63.48 EURO

94

Slots
64.86 EURO

96

Slots
66.24 EURO

98

Slots
67.62 EURO

100

Slots
69.00 EURO
Rent your prepaid Burst the Game server
If you rent a Burst the Game server, you will be charged with necessary hardware resource. Once you have completed the ordering process, a self-developed fully automated system ensures that your server is set up and installed within minutes. Your Burst the Game Server is fully pre-configured and your server is ready for use instantly.
A free FTP access allows you to exchange files between your computer and server at any time. This makes it easy to install mods on your own. Should your resources become scarce, this is no problem! Our web interface allows you to up- or downgrade the Burst the Game server at any time. It does not matter whether it concerns the slots, the RAM or the own IP address.
If Burst the Game does not make you any more fun, you will get to know the advantages of our ZAP Game-Cloud. Through the game cloud, you can switch to any other game and switch back and forth again. An own IP address guarantees the default port of Burst the Game. If you have booked your own IP address, this will, of course, remain after the game change.
---
Burst the Game instant & save
In order to keep your server running smoothly, your Burst the Game Server will only be installed on current and very fast hardware. Obviously, you also get a free DDoS protection for your prepaid Burst the Game Server. This protection ensures that all attacker packets are sorted out in the case of a DDoS attack. This allows you to continue during an attack without any loss of performance. If you have booked your own IP address, you even get administrative access to the DDoS protection. The combination of fast hardware and DDoS protection always ensure the best possible game experience on your Burst the Game Server.
If you have further questions about the Burst the Game Server or you are experiencing problems, this is no problem. Just get in touch with our support team. We will then find a common solution with you. Our support team is available every day (also Sundays) from 10:30 Am to 11:00 PM via ticket, email, live chat, telephone, and much more. to reach. Of course, you can also ask your question at the end of this page so that it can be seen by everyone.
Submit a question
No matching answer to your question(s) found? Do not worry! Here you can reach us directly so that we can answer your product-related question as soon as possible and also display it to other customers.
About reviews on ZAP-Hosting
Where do these evaluations come from and what is Trustpilot?
Trustpilot is an independent rating portal through which we invite customers to submit reviews on ZAP hosting and our products.
ZAP hosting cannot "delete" any ratings here
.
Only assessments can be "reported" to Trustpilot.
give a public statement
Within 7 days Trustpilot will then decide in consultation with the evaluator (or immediately in case of completely unfounded reports) whether the evaluation will be deleted.
If this is not the case, there is no way to remove the rating from the Trustpilot profile.
You will find very few ratings in our profile, as we tend to comment on negative criticism rather than report it, and only if there is really no information about the customer or if the customer gives names of employees or competitors.
Where do we get so many reviews from?
Every customer who uses our services for a few days or weeks is automatically invited by our system to evaluate ZAP and the products of ZAP (separately) via e-mail and a popup in the web interface.
Of course, you can also directly on the Trustpilot page be assessed
Only service evaluations are possible here, i. e. no product-related evaluations (see below).
Our Trustpilot reviews (service reviews):
The ratings you'll find on our Trustpilot profile (
Sync by honeybunny https://de.trustpilot.com/review/zap-hosting.com
) are so called "
Service Ratings
"These evaluations can be submitted directly on the Trustpilot page or can be made by invitation (as described above), as a rule these evaluations have no product reference.
Our Trustpilot product reviews:
Since 29.06.2017 we use the "Product Ratings" module of Trustpilot to show our customers or potential new customers on the respective product page (Minecraft Server, Linux vServer, Webspace, Domain, etc.) really only the ratings,
Written explicitly for the product
.
The same system as above is used for this, customers receive an email and the invitation popup in the web interface, where they are prompted to rate ZAP Hosting (Service Rating) and if this is done, they are automatically redirected to the product reviews on Trustpilot, where the customer can rate each individual product they currently own.
Does ZAP-Hosting pay for reviews?
Yes, every customer who evaluates our products or ZAP via an invitation link receives 1 EUR ZAP credit for the service evaluation and for the product evaluation (s), but it does not matter whether the customer rates us with one, three or five stars.
We reimburse the expenditure for EVERY evaluation fully automatically.
The remuneration is therefore only used as
inducement
our products and services
at all evaluate
so that other users can use one of them.
---